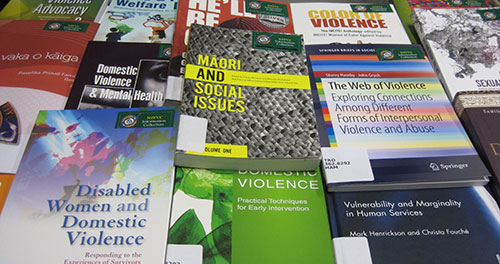 Welcome to the library
Quick topic search | Te Reo Māori Quick Topic Search   What's new in the library
Contact the Information Specialist: Email: info@nzfvc.org.nz
What's in the library?
The library includes over two thousand books, reports, theses, dissertations, fact sheets, newsletters, DVDs and multimedia resources selected to inform those working to eliminate all forms of family violence and violence within whānau in New Zealand.
Topics covered include:
Intimate partner violence
Child abuse and neglect
Sibling abuse
Parental abuse
Elder abuse
Violence against disabled people
Adolescent relationship abuse (dating violence)
Sexual violence within families and intimate relationships (including child sexual abuse, intimate partner sexual violence and dating violence)
The focus is on material from New Zealand but international resources may be included where they are significant, seminal or where there is a gap in the New Zealand research. The library contains material relevant to a range of communities in Aotearoa New Zealand including Māori, Pasifika, ethnic and religious minorities, disabled people and LGBTIQ.
A list of what's new in the library is updated monthly.
The online library catalog provides access to these resources. Some are physical items you can borrow free of change; many are freely available online.
How to search the library
Quick topic search: Use the topic links to do a quick search on frequently searched topics. This performs an up to date search of the library catalog based on the subject headings used in the catalog and is often a good place to start. The most recently published material will be listed first. Use the options on the left of the results page to refine your search.
Keyword search: Use the Library Catalog search box on the menu bar above to search by keyword. A keyword search finds items when the word or phrase appears anywhere in the library record (including title, abstract and subject headings). The results may include a number of less relevant items.
Use the drop-down menu beside the search box to search only on Title, Author or Subject.
Use the options on the left of the results page to refine your search.
Advanced search: Use Advanced search to design a more complex targeted search. You can also access Advanced search from the menu bar above.
The library uses a controlled list of subject headings tailored to the needs of our users. Use the Quick topic search to find the subject headings most frequently used in this catalog.
When you look at a library record, you can see all the subject headings assigned to an item.
Search for Subject to confine your search to subject headings used in this catalog.
You can search with multiple keywords or other options. The default is an "AND" search (all words/phrases must appear in the record.) Use 'More options' to change this.
You can also limit your search to a publication date range or to a particular type of item, e.g. books, reports or DVDs. Tick 'Access online' to find items freely available only. If you tick more than one item type, the results could include items of any of those item types.
Need more help?
NZFVC staff can help you find the latest family and whānau violence information, including statistics, resources, research and evaluations. We can do this via email, phone or in person. We provide this service for policymakers, service providers, researchers, students, media, people affected by violence and the general public.
Depending on availability of staff, we may be able to provide a short list of key references based on a limited literature search. Requests for comprehensive literature searches will be considered by the Directors on a case-by-case basis and a fee for service may be charged.
The information Specialist is available Monday to Thursday.
Contact the Information Specialist.
Borrowing items
You can borrow books, DVDs and other physical items. When you find an item you wish to borrow, click on the 'Request this item' button to register and email us your request.
To register, you need to provide your name, address, email, phone number and contact details of a referee (someone who will know how to contact you if you do not return items on time).
There is no charge for posting item(s) to you. You pay to return the item(s) to us. The loan period is four weeks. This lending service is only available to people based in New Zealand.
Some journal articles are indexed in the library catalog. We regret that we are unable to provide full text access to many of these, due to copyright restrictions. Journal articles can be requested through your local library by inter-library loan.
If you would like to visit the Clearinghouse and browse the library in person, please contact the Information Specialist.